Remember back in the day when we used to actually use CD's to play music? Ok, so maybe people still do.. but I recently bought a new Kia (don't even get me started on that) and there is one good thing about it- it has a plug in for my Ipod! I now have absolutely no use for CD's. The question is... should I throw them away or save them for a project?
Then there's the dishwasher. The nice new dishwasher we bought that my fiance never puts dishes into despite the fact that he picked it out. His dishes often go on random countertops in the kitchen (not even in the sink.. I know, he has some kitchen etiquette to work on;). So I thought I'd make him a little reminder.
The only supplies needed are an old CD, scrapbook paper, ribbon, glue, stickers, nail file (or distress ink) and some sort of magnet. I traced the edges and cut it out to fit nicely onto the CD. I distressed the edges by using a nail file and filing the edges all the way around. I taped it all to the CD and glued a cut up magnet that was for some pizza place in town. I didn't cut it up because my stainless steel doesn't hold magnets well, but you probably wouldn't need it this big if you didn't want.
And here you have it: my new dishwasher magnet! I put the cuter font as dirty because, let's face it, the dishwasher is most often dirty! :) Simple project that took under ten minutes and was completely free!
**Just an FYI- I may be completely out of it, but I hot glued the magnet to the CD and it fell off immediately. No matter how much glue I used, it wouldn't stick. So I used gorilla glue, which might seem like overkill, but it worked for me! One reader did suggest trying to sand the back of the CD first, which just might work... although I haven't tried it!
*
Tuesday:
Wednesday: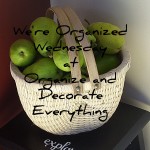 Friday: